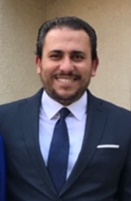 Dr. Amr M. Enaya
Welcome to Galt Healthy Smiles! 
Dr. Amr M. Enaya has served patients of all ages since 1995. Prior to establishing his own practice in 2008, his experience included work in a clinic setting and as an associate in a well respected private practice. He opened his office in Galt, California in March of 2008. As a dentist, Dr. Enaya's goal is to serve his community and provide quality care for his patients.  He cares about each patient he meets, and works hard to equip each person who walks through the doors of his practice with the knowledge they need to maintain good oral health. He and his staff are dedicated to establishing and maintaining dental health while making your visits friendly and comfortable.
Dr. Enaya attended the School of Oral and Dental Medicine at Cairo University in Egypt, completing his degree in 1995.  In 1999 he went to Chicago and passed his National Board of Dental Examiners and shortly after that  he moved to California and passed the California Dental Board Exam.
To ensure that his patients always receive optimal care, Dr. Enaya is constantly continuing his education and training, attending classes and study clubs monthly. He has received advanced training in several fields of dentistry, including:
Post-graduate program in Contemporary and Aesthetic Dentistry through the University of Minnesota School of Dentistry 2015-to present
Advanced Training on Aesthetic Dentistry at Kings College, London, England (2013)
Aesthetic Continuum Courses at UCLA School of Dentistry (2012)
Implant Surgery and Restorations course at the University of Bern in Switzerland (2012)
Dr. Enaya is a member of several professional organizations, including:
American Dental Association
American Academy of Cosmetic Dentistry
International Team for Implantology
Dr. Enaya has been married to his wife since 2003, they have two sons and a daughter. In his spare time, he enjoys traveling, playing sports, biking, and hiking.
Our dentist and team are eager to assist you, and we invite you to contact our office today!
---
Dr. Hesham Amer (Orthodontist)
Dr. Hesham Amer, a well-known orthodontist in Santa Cruz, California, has been practicing orthodontics for over 20 years. He has been teaching the postdoctoral program at the University of the Pacific in San Francisco for 14 years. You will find him friendly and always available to address your concerns. The fact that has performed a large number of Invisalign treatments, coupled with his expertise in the appliance have made him the premier provider for Invisalign® worldwide. Dr. Amer is also writing a textbook on Invisalign. He has lectured nationally and internationally in the field of orthodontics, and on interdisciplinary approaches for the best patient treatment outcome. Dr. Hesham Amer is the founder and currently the president of the Dentistry World Study Club (DWSC) formed in 1999. He has been selected by the consumers' research council of America as one of American Top Dentists for 4 consecutive years.